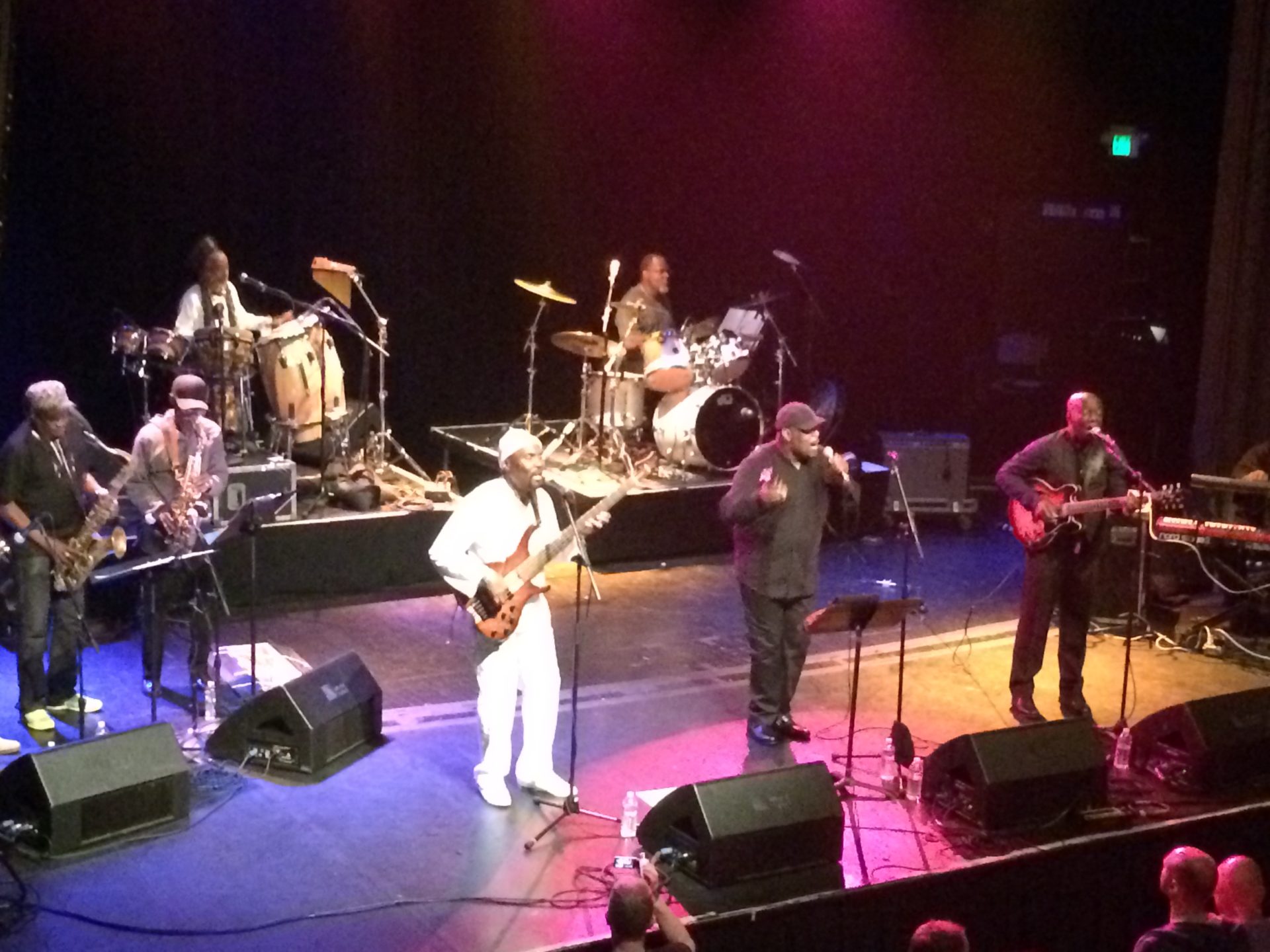 Slurred Soliloquy on Cymande:
Stories of Soul Francisco
Still feeling the soul glow from San Francisco. Tony Joe White called it Soul Francisco, and that was no joke. Saturday night I felt the fire and brimstone of Heron Oblivion at Mississippi Studios, and it cast my memory back there, lord, to two weekends ago when I wandered the streets that gave birth to that bad-ass band and so many more sounds that reverberate to and fro along the last 50 years and beyond.
It began with a wish on my wife's part to take a decadent draft of Napa. Given my personal feelings on wine, which range from "who gives a shit?" to "I have a headache," I've been trying to muster up the motivation to take her for years. But when a press release appeared about British Funk/Soul/Reggae cult champions Cymande touring the U.S. for the first time since 1973, I saw an opportunity for my softcore-Machiavellian nature to serve someone other (or in addition to) myself.
Thus it was decreed that we would be dispatched to San Francisco for two days, and a term following that in Napa of no less. I would frolic in an urban wonderland of concerts and records shops and museums and filth, and Mary Ann could enjoy the Eloi-esque delights of wine country. And who knew? We might even like the other's choices, too.
We touched down on Friday night, and immediately made our way to the Tonga Room, the best goddamn Tiki Bar whose shag-carpet-length kitsch I've ever had the pleasure to luxuriate upon. The house band was jamming out everything from Santana to Mariah Carey on a boat floating in the middle of a room-length artificial lagoon. Each set would begin and end with rain falling from the ceiling while the boat pulled in and out to sea. Hawaiian-style food and boat drinks abounded and a tropical time was had by all. I traveled back in time and told a young Martin Denny about the experience, and a time loop was formed to break the brains of lounge music fans and dashboard hula girl manufacturers everywhere.
And on the second day …
Saturday: Onward into the Park!
The idea of seeing a city like San Francisco in two days and three nights is ludicrous. You just have to say, "Fuck it. I'm doomed to fail," and then remember that whatever happens, it's better than being at work.
We began our delicious failure at the newly reopened Museum of Modern Art, which we overheard could easily take five or six hours to explore. We did it in 1.5. Not saying it was disappointing. You'd have to be an asshole to talk trash about any institution hell-bent on preserving timeless, brilliant beauty in an era when art and intellectualism are valued at the level of McDonald's Monopoly pieces. But it was kind of disappointing, especially compared to its New York counterpart. By all means go, but budget your time accordingly.
Next was Amoeba Music, of which I shall speak no further. I can't. Whenever I encounter that much music, my body immediately gets commandeered by a lust demon so powerful that I'm as swept away as a buxom lass on a romance novel cover. My body is returned to me several days later near an abandoned shack in the Mojave desert with only minor knife wounds and severely chapped lips to tell the sordid tale.
Before that demon could take hold, we first had to slay the thorny beast of hunger. As m'lady consulted ye olde Yelpe, I noticed a cozy-looking Puerto Rican eatery called Parada 22 and said, "That place looks like it could be tasty." To which she replied, "Hold on, I'm looking on Yelp." After we had passed the restaurant, she added, "Yelp says there's a good place called Parada 22 near here."
If you anticipate finding yourself beset by a demon in the Haight, I highly recommend stopping in at Parada 22 for a civilized lunch first. The Pernil Asado practically chews itself for you, wafting perfumed clouds of sofrito flavor into every hole in your face. Yes, your ear holes, too. I don't know how. The Arroz Amarillo and Habichuelas Coloradas – while tripping awkwardly off my tongue – moved with sublime grace going into my gullet. I adopted a bottle of homemade habanero hot sauce, damn it. I was smitten.
Much later, after the demon had fled, we took the street car, where a homeless man gumming a block of cheese screamed at me to get the fuck away from him. When at last we bid him a fond adieu, we found ourselves in the Mission District and marching on Delores Park. The hillacious urban green space is basically what would happen if a mid-'90s Dr. Dre video came to life, formed a commune, and got really into Phish. Hacky-sacks, bolos, frisbees and bean bags arced through the air on all sides, and bagged bottles and blunts circulated every 10 feet or so. Nearby, families barbecued together or watched their kids swarm the play structures, and these disparate activities cohabitated in perfect peace. The vibe was all utopia as defined by John Belushi, but not at all obnoxious. We climbed a slope, settled at the base of a tree and watched the life-affirming melee contentedly.
From there, we strolled up to Valencia. Thirst being an obvious consideration, we ducked into the most misnamed bar in San Francisco. The sign outside said Holy Mountain, and my mind instantly started sprinting down corridors of Jodorowskian dimensions while the bong-rattling bass of the band Sleep coiled in wait like a stoned snake waiting to strike.
Instead, we were treated to what can only be described as a Luther-Vandross-impersonating DMV employee's unmemorable midnight dream. Irredeemable late-'80s and early-'90s quiet-storm-peabozack-getting-faux-R&B bullshit seeped from the speakers like the stench of a high-school locker room doused in Calvin Klein Obsession. Our bartender appeared to be the love child of Chuckles and Shipwreck from G.I. Joe – which is to say, fucking awesome. The surly bastard briefly, begrudgingly leered in our direction before returning to his cleaning. I pounded one drink just to give myself time to come to terms with the soul-crushing disappointment before moving on.
Sunday: Tourists Syndrome
Forget about it, Jake. It's Chinatown.
Cool. Not a problem. To the outsider, Chinatown is infinitely forgettable. It's a mile-long stretch of the same exact gift shop with a thousand storefronts. Nevertheless, it was our Mellow Brick Road to reach the Musee Mecanique by way of Lombard Street, aka "The Crookedest Street in the World!" No, we couldn't have put together a cornier, more touristy itinerary if we tried, but I'd be lying if I fronted that I didn't enjoy easing on down that road. San Francisco is so walkable it makes Austin look like L.A.
The cherry-flavored fruit chew atop our Cheez-Whiz sundae came in the form of two cones of Ben & Jerry's slurped as we strolled San Francisco's answer to Mall of America. Fisherman's Wharf is a weird scene, full of men pretending to play steel drums, chowder stands, carnival barkers hard-selling tours of Alcatraz, and Crapplebees. But if you wish to see the denim-and-rollerblade-bedecked wizard of the Musee Mecanique, it must be braved.
The arcade museum at the end of the rainbro was worth it. Imagine a world where you can flit from classic pinball games to coin-operated depictions of opium dens, a world where skee ball and vintage fortune-teller kiosks lay side by side, reminiscing on youths spent decorating the Jersey shore. Imagine Flynn's Arcade from "Tron" as designed by Olivia Newton John from "Xanadu." Now age that image 50 years or so, cover it in dust and gum, and behold the beauty of the Musee Mecanique!
In addition to the opium den (cue Justin Warfield) there were depictions of French-Revolution decapitations, faerie wonderlands, grand Victorian balls, and flatulent campfires. There was a pinball-style game called Hyperball that I still have no idea how to play after forking over 75 cents for the fastest turn in recorded pinball-style-game history. It involved shooting ball bearings at a combination of slots and letters, and I'm pretty sure that the light-up lightning details were trying to tell me something. When I asked the rollerskating sage of the parlor why it was so expensive – nearly everything else was a quarter – he said, "It's hard to fix. I really don't want people to play it." I think he hated me, but I kind of loved him.
Several hours later, after decompressing from the world's worst Lyft ride by drinking Bulleit and playing Crummy while listening to Tim Hardin and Anderson .Paak, it was time for the main event. If seeing Cymande wasn't enough, the baddest contemporary funk brigade, Budos Band, was opening the show. But wait, there's more. The venue was the 107-year-old Regency Ballroom, a glorious relic of a past when the theater was as much a part of the attraction as what was showing there. Cyclopean squares of vaulted, gilded ceiling tiles loomed over intricate scroll work and prismatic chandeliers. With the air hazy as Hades and the lights down low, you could easily imagine yourself at one of Bill Graham's legendary shows.
Never sure with Budos if the entire band is shit-hammered, or if they're just taking a cue from Dean Martin and acting a crunken fool to facilitate a Bacchanalian atmosphere. If it's the latter, the trumpet player is the best actor I have ever seen. In between their slurred soliloquies and wild gesticulations, their heavy-psych Afro-jazz beatdowns bring the crowd to full boil every time. Seen them thrice in the past couple of years, and would gladly do so thrice more.
If Cymande is a new name to you, as my buddy Pink might say, do yourself a favor. In an era when bands such as Mandrill, War, Earth Wind and Fire, and Funkadelic were constantly redefining what soulful music could sound like, Cymande still managed to stand out. Their fusion of Reggae and other Caribbean sounds with funk, rock, and message songs worthy of Mayfield or Marley made for a hearty Ital stew. Their music still speaks to people so loudly that they can pack the Regency more than four decades after the last of their classic-period albums was released.
Founding bassist Steve Scipio stood just left of center stage clad all in white, bobbing like a cattail in a slow-but-constant current of his own making. A three-piece horn section made up entirely of saxes played like sunshine across the surface, while behind them Rastafarian vocalist and percussionist Pablo Gonsales brought the burble. Guitarist and co-founder Patrick Patterson grinned for 90 minutes straight, so thrilled did he seem to be at finally feeding his fare to such a ravenous audience.
We floated out of that venue, and took several wrong turns on the way home, our roundabout route a microcosmic performance piece dedicated to the long, hard roads a band like Cymande traveled to get back where it started. It's never the same place, though, is it?
Fortunately for us, our hotel was still there, and in the morning we checked out, and set off for the pastoral life of Yountville. When we picked up the rental car at Alamo, I inquired if they might have one with a CD player so I could score the drive with the music I'd pillaged during my Amoeba-induced rampage. The first car the attendant pulled around did not, and seeing the theatrically sad look on my face, the lady who was helping us waved at another driver who had just pulled in. Turned out we were in luck, and this one was outfitted for dinosaurs and their vestigial physical music formats. As we climbed in, our heroine leaned into my wife after seeing the look of jubilation on my face and whispered, "I get it. I gots to have my styles, too."
With that, we cranked up some Fontella Bass and began the scenic drive to Yuppie Country. What happened there, you ask? Did we re-create an episode of "I Love Lucy"? Did either of us choke while trying to pretentiously taste a cabernet sauvignon? Did I lose my mind from sensory deprivation like William Hurt in "Altered States"? Cheers to hoping I get around to telling you at some point while we're still young.
To be continued …