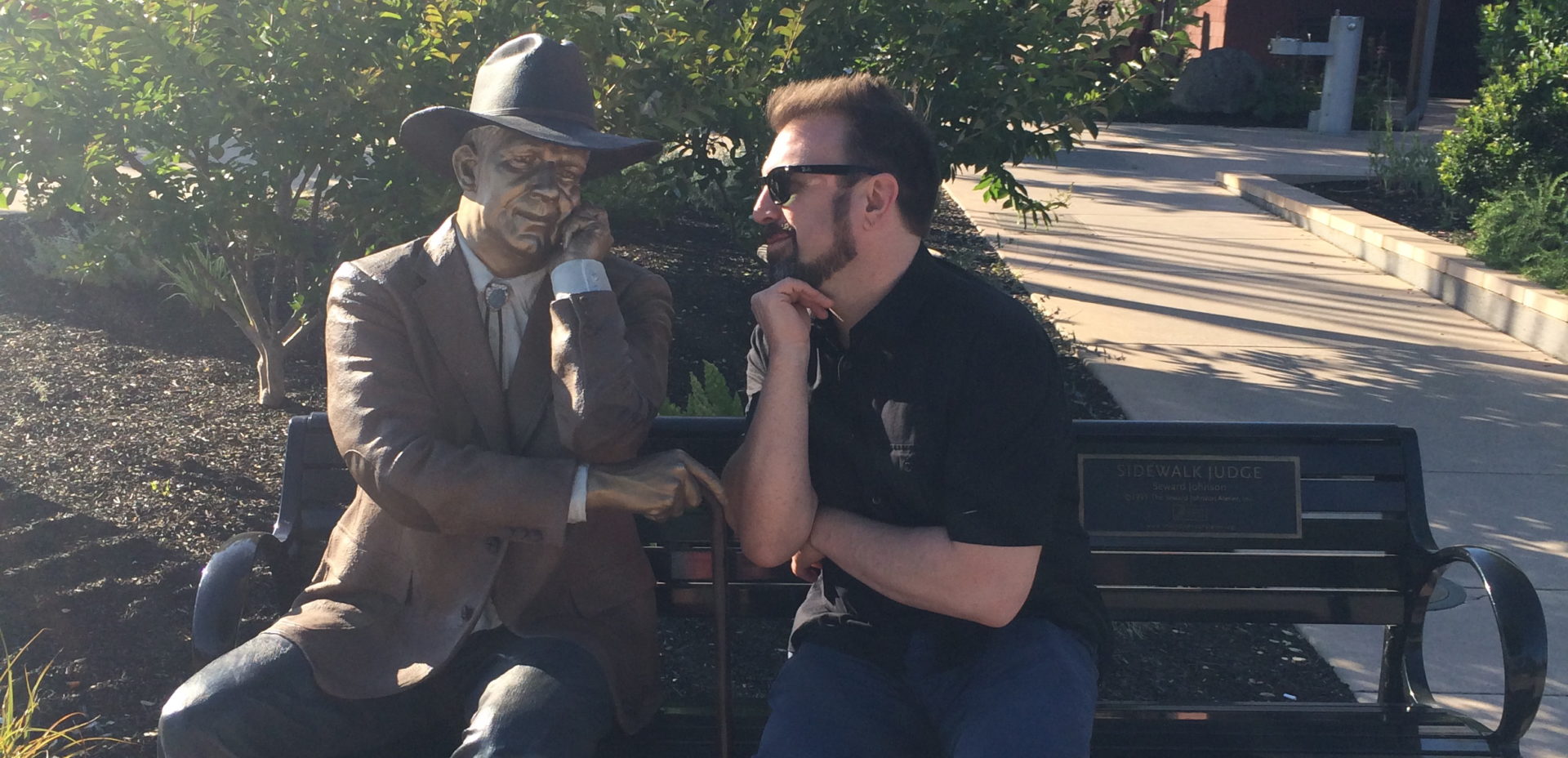 Grape Ape Does The Napa Dugout
Approaching a fine bottle of wine, I resemble nothing so much as Derek Zoolander and Hansel attempting to crack a computer. I know that the wine is in there, and that it's reputed to be filled with flavors so sublime that they make yuppies wax faux-poetic like Janet Jackson in a self-indulgent John Singleton movie. But how to coax out those flavors?
Apelike, I swat at the bottle, grunting and sweating and hopping about in a mounting rage, but to no avail. If I accidentally uncork it, a few drops might happen to fall into my mouth as I turn it upside down to look for the Djinn who surely must grant my delicious wishes. Tasting these astringent splashes, I'd assume that the Jeannie must have died a few years earlier, and its remains had been putrefying in its glass casket ever since.
So yeah, not a wine guy. Give me the bold, fiery flavors of a Kentucky Straight Bourbon any day. Give me the savory, refreshing evanescence of a Pilsner, or the sweet, thirst-crushing nectar of a good cider. Give me a Martini, a Manhattan or a Moscow Mule. Just don't give me a luke-warm goblet of proto-vinegar and expect me to faun over it like a foodie on ecstasy.
As we drove the stretch of highway from San Francisco to Yountville, I puzzled out exactly how I'd come to find myself in "wine country." What is this place, and what kind of madman would dedicate an entire country to the cultivation of perfectly good grapes, only to then let them turn to a tannen-bomb in oak barrels better optimized as cradles for sweet sour-mash bundles of joy?
It was all part of a devil's bargain I'd struck with the original "devil you know," my wife. I got two days and three nights in the never-ending wonderland of San Francisco, but the price of admission was two nights and three days in what I imagined to be the doldrums of rural California. I'm now calling it the Napa Dugout, because A) like a canoe, time there seems to drift on a lazy river, B) it's as fertile as those crescent valleys women carry with them, and C) I will go to great lengths to work a Funkadelic reference into anything I write.
Like most places, Napa is as funky as you want to make it. We could easily have visited "The Castle," coyly slurped at full-bodied cabernets and had uptight dinners of perfectly poached pears and squab and whatever the fuck else the stereotypical yuppies of my misanthropic imagination do when not gamboling about in fluffy fields of lavender and infinity scarves.
OK, so we did some of that stuff. True to its reputation, the Napa region is like a party in your mouth and everyone's invited. To not indulge in a bit of culinary decadence would be like slapping Gerard Depardieu in the face with a spoiled swordfish. As fun as that sounds, there's never a marlin around when you need one. There are a bounty of world-class eateries on-hand, however, so rather than fly all the way to France and spend several days searching out a properly putrefied fish, I decided to go with the flow.
Now that the last paragraph has properly whet your appetite, let's dig in:
Munchies For Your Love

First, let me say that I'm no foodie. I love food, and occasionally like talking about it. The level of preference for those two acts should always run in that order. I define a "foodie" as someone who likes talking about food more than eating it, and further has the peculiar proclivity for talking about food in such a way that only other self-described foodies can join the conversation. I have no patience for this. Everybody knows that unnecessarily baroque descriptors and injudicious deployments of jargon should be reserved for little-read blogs about obscure music and movies.
Fried chicken is meant to be shared, y'all. This is a principle in which Ad Hoc firmly believes. The restaurant was started in 2006 by Thomas Keller of French Laundry fame, but I didn't hold that against it. Not that there's anything wrong with French Laundry, other than the fact that no food should cost that fucking much. If you have to make a choice between buying plane tickets to a place and having hotel rooms to stay in while there, and eating out for one meal, something has gone seriously wrong in the pricing department. Fortunately, tired of gouging millionaires and foodies desperate for bragging rights, Keller decided to open a restaurant where normal people could afford to eat. And eat. And eat. And zzzzzzzzzzzzzz …
Each night, a single four-course menu is written on a chalk board, and you feast upon what they serve you. If a lack of options is the price of not paying an exorbitant price, so be it. The only better fried chicken I've eaten was at Pok Pok. Light and crispy on the outside and moist as womankind's least favorite word on the inside, the fried chicken Ad Hoc serves is rumored to be the exact kind dangled in a bucket just out of Col. Sanders' reach for all of eternity in the boiling deep fat fryer of Hades. The sides ranged from such simple family style classics as sauteed green beans and a succotash of carrots and mushrooms, to sweet, salty, and perfectly crusted "drop biscuits" and a farro salad that would make Giada De Laurentiis shank her sweet Aunt Raffy for a taste.
We had enough left over to stock our mini-fridge in our train car and snack like the nouveau-riche for days. "Mini-fridge in your train car?" you ask. "What was this? Some kind of 'Darjeeling Limited'-meets-'Murder on the Orient Express' hallucination?" I wish! But more on that in a moment.
First, one more pro-tip for the budget-conscious hipster too proud to admit he's a foodie. The Restaurant at Meadowood would, in all likelihood, fall into the the same six-fork cost category as French Laundry on some off-brand luxury dinging app. In the interest of full disclosure, I've met Christopher Kostow, its three-star Michelin chef. He's a hell of a guy if you're into that whole disarmingly-charmingly-unpretentious thing. Bookish AND into nature, you want to hate him instantly, but it's impossible. I'm glad I got my "shit's-too-expensive" rant out of the way earlier in this blog so I don't have to lay it at his feet. He'd probably just punt it good-naturedly back into my fat face, anyway. If you've got skrilla to kill, by all means go there and get decadent on my behalf.
Fortunately for the less-extravagant diner, there are options aplenty at Meadowood to fulfill the fantasies of even the most fiendishly cheap gourmand. For $90 a person, you can enjoy a prix fixe menu in the bar that assassinates digestive dictators on the regs. We opted for the obscenely underpriced "Snacks in the Rotunda" option at $40 a pop.
To call this 10-course parade of culinary presents "snacks" is to do free public relations on behalf of the imaginary, insidious lobbying cabal The Council to Elevate the Definition of the Word Snack. Scooby would think you were higher than Taco on the "Chalupa vs. The Cutlet" episode of "The League" referring to this photogenic smorgasbord as mere "snacks."
Here is a short list of the miniature works of art we shoved willy-nilly into our savage suckholes: Sweet potato blintzes, fried duck legs, avocado poppers, crab-stuffed endives, some sort of expressionist sculpture involving muscles, lamb tartar tucked lovingly into an edible flower, oozing blue cheese and honeycomb on fresh-baked bread. Wish I'd taped our server's evocative descriptors as she brought each course, both for more accurate recollection on my part and the enjoyment of my readers who totally aren't foodies either.
We lounged on cushion-strewn couches by a blessedly dormant fireplace playing Scrabble on an old wooden board. The staff were so charismatically attentive that they made us want to renew our vows just so we could invite them all to our wedding. True, former coworker and continued friend and lifestyle benefactor Martina Kostow – it's anybody's guess why she continues to make time for my Facebook missives while jet-setting – could have told them to be extra nice to us. Except they were equally nice to a group of elderly "Hurly Burly" re-enactors sitting nearby engaging in a verbal cock fight wielding delightful phrases like "drunk on pussy" while describing their exploits in Southeast Asian brothels. If you can be nice to those assholes, you are a true professional.
Liquid Sunshine
Even if wine doesn't float your boat, it can still be a launch from which to cast your dinghy waveward. Think of bicycles as paddleboats for land if it helps to complete this nautical metaphor. We rented ours from Napa Valley Bike Tours & Rentals, and decided to pedal directly to Domaine Chandon. Nothing like some bubbles to buoy the rest of our pseudo-nautical adventures.
Founded in 1973, a great year for both music and film, Chandon is housed in a modern structure dropped into the middle of a rustic French estate. Lock your bikes on the far side of the bridge, and by the time you arrive at the tasting room, you'll have forgotten how you got there. Order a flight of sparkling wines, and chill on the terrace while you sip a selection ranging from Brut Classic to Rose. The Extra Dry Riche was my personal favorite, tempering mildy sweet, citrus-y flavors with the crisp, dry carbonation necessary to cut through the sunbeams that managed to creep through the overhead foliage.
As we checked out in the wine shop, a display of brandy in velveteen satchels caught my eye. The clerk explained that this batch had been aged for 40 years and was likely the last they'd produce. Bullshit or not, we were significantly intrigued to throw down $60 on a bottle. Later, as we dipped our tongues into the caramel concoction, I realized I didn't care if it'd been made the day before in a plastic kiddy pool. Brandy is the perfect drink to make a bourbon man re-examine his aversion to wine, and even better for getting the wine drinker to open her palate to the hard stuff.
After Chandon, we set out on a riding loop of the adjacent wine country. The "business district" of Yountville is less than five blocks long, so getting out into nature is no tall order. Soon we were barreling along scantily trafficked byways of vineyards and droopy joweled trees, stopping when we damn well felt like it at wineries along the way. None were particularly worth mentioning, but all served the crucial function of wetting down the dust from the ride.
Francis Ford Coppola's Inglenook Vineyard, on the other hand, is worth seeking out, even if you don't know "Apocalypse Now" from "Gardens of Stone." Again, the wine was only the method for threading the film into the projector, and not the feature attraction. While the mirrored cellars of Inglenook are cool and picturesque, and sampling wine and cheese in a barrel room accessed via hallways lined with dusty bottles were experiences worth toasting, the real attraction at Inglenook is the land. Or, perhaps most appropriate to Coppola's films, the story of the land.
Finnish sea captain turned Napa homesteader Gustave Niebaum first acquired 17,000 acres of pristine countryside in the late 1800s, and he proceeded to build an empire. Unfortunately, prohibition, followed by corporate acquisition, managed to disassemble that empire, reducing the Inglenook name to one associated with tacky table wine. Flush from "The Godfather: Part II," Coppola began buying up swaths of Inglenook, at first using the land with which the now mass-produced jug bland shared only a name to incubate his own craft draft, Rubicon. As the years went by, like any good collector, he kept at it, and following the successes of subsequent films such as "Bram Stoker's Dracula" he collected the entire set. Eventually, he took back the Inglenook name from the mass-producers, and now makes two lines of fine wine for would-be somaliers and cinephiles alike to get pretentious over. If Coppola himself hadn't gone off the rails directly after "Dracula," I'd suggest it had the makings of one of his own movies. Perhaps his obsession with the land itself derailed his own celluloid vision, and I like to imagine him lying in a dim grove somewhere on the estate telling dark-hearted Hollywood producers seeking out his talents that they're errand boys sent by grocery clerks to collect a bill.
Later that day, we wandered into Redd on the main drag and enjoyed cocktails teeming with mezcal and champagne floats while we replayed the dailies of our adventures and storyboarded more yet to come.
All Aboard! The Night Train!
Traveling by train is one of those experiences that's always better in the movies. Call me a dreamer, but "From Russia With Love" and "Snowpiercer" come barreling through my noggin at the sight of rails. In real life, trains are glorified subway cars, without even the sketchy mystique of a filthy underground tunnel to set the mood.
This was an apt metaphor for our first hour at the Napa Valley Railway Inn. Unable to secure our desired caboose – or any train car for that matter – for the initial night of our stay, we found ourselves in a drab, poorly carpeted "station house" room. The discovery of this room's remarkably mediocre nature produced some gnashing of teeth and bleeding from the orifices, but just as we were mastering our disappointment: "What's this? A knock upon the door?" (To the tune of "What's This" from the motion picture soundtrack to "Nightmare Before Christmas.")
The manager had come to inform us that another passenger had been left standing on some faraway platform, and one of the cabooses had become available. We again gnashed our teeth, but this time in ecstasy. Hastily repacking our bottles, we rolled our luggage down the wooden-beamed outdoor walkway, producing a sound a bit like a train pulling out of a station.
The bad news was that the carpet in the caboose wasn't any prettier than that in the station house. The good news was pretty much everything else. For roughly half of what some of the other nearby hotels were charging, we got a bed framed by the windows of the cupola, and a stealth fridge hidden in the night stand. The room could have used a big, cushion-strewn couch, but we wondered if it was even wide enough to comfortably accommodate one. Still, there was air conditioning and a flat screen to watch movies on at night, and it was right across the street from almost the entirety of main street Yountville. As much as it pains me to admit that I watch anything on HGTV, there's a forever-fort-fantasizing-infantile part of my mind that loves me some creative use of bizarrely small spaces. This part ululated with thunder-blanketed glee.
Ultimately, the Napa Valley Railway Inn was most of what we wanted it to be, and for a steel deal. Not a typo. Groan now. If you have a romantic yen for old-timey train travel without the reality of train travel shitting all over your fondest wishes, then to quote Pottymouth from "Wonder Showzen," hop the fuck on, bitch.
But what's that up ahead? There's a break in the tracks? We're about to go hurtling off the precipice and into the ravine? There's no bank robber with a surprise conscience here to leap from his horse to the engine and stop this thing before it gets on the plane and goes back to Portland and work and life and "Aaaaaaaaaggggggghhhhhhhhhh! ………"
Even a closeted Yuppie's vacation stereotype must come to a grinding halt. Mary Ann's mom always says, "It's best to leave a place before you're quite ready to go." That I ever went to Napa in the first place is a memory I thought I'd spend countless years and dollars repressing. To find that I didn't want to leave at all (or at least for another day or two) was a painful, shocking revelation, akin to the sweet shame I felt rooting for Lance and Amanda to choose the remote, minuscule mountain house with the hard-to-insulate barn in scenic Asheville, North Carolina.