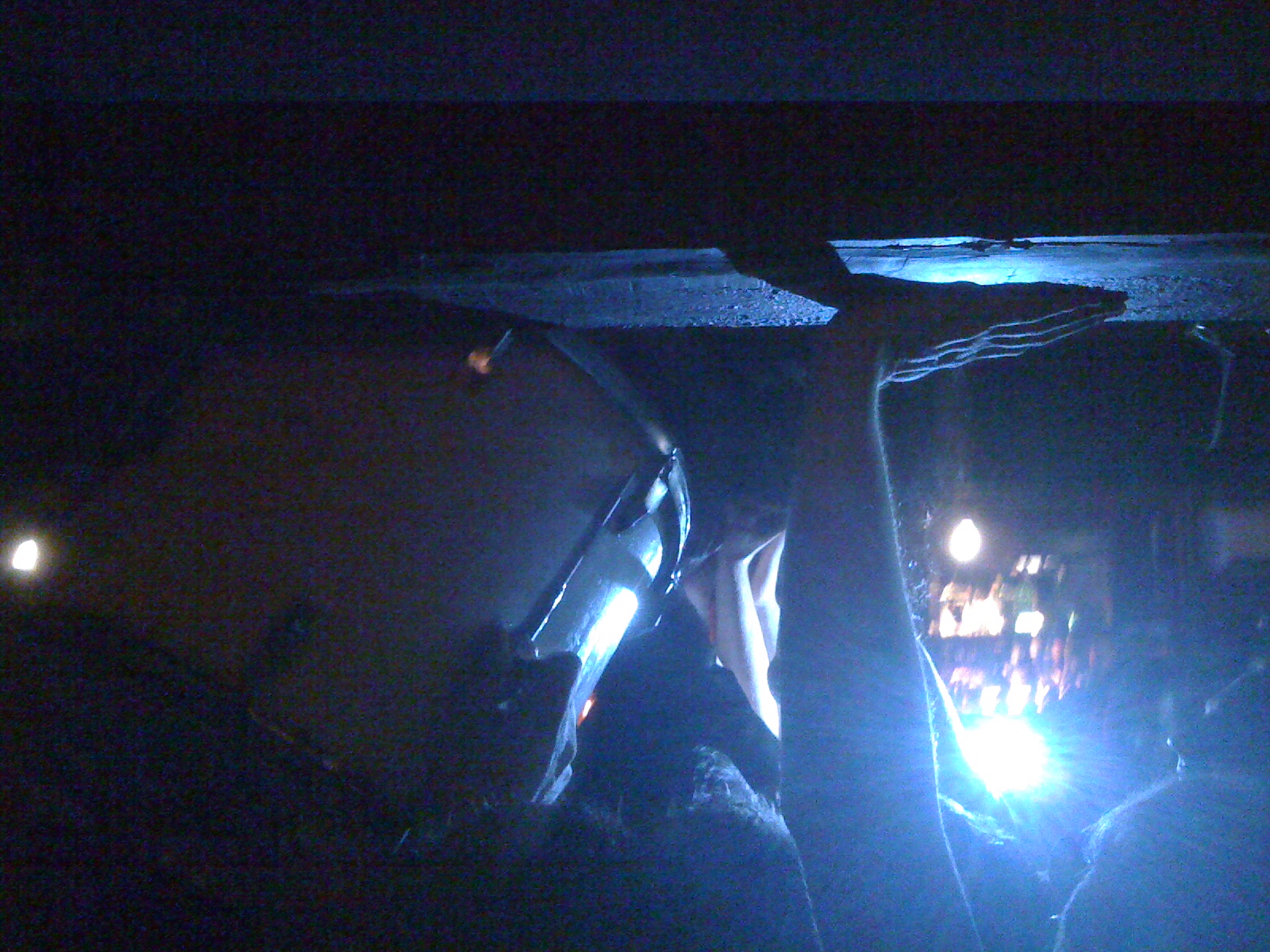 If you tear it down, they will come
Tear down the wall! Tear down the wall!
That's not just good advice for Roger Waters, Bob Geldof, and Germany circa 1989, but for organizers of music festivals, as well. There are many reasons why SXSW is one of the greatest in the world, but the one that stands above all others for me is simple: Choice.
Yes, there are walls. Any enterprise that depends on revenue to continue to function must sell tickets, and what's the point of selling tickets if there's no way to ensure those in attendance have one? But so far, nobody at SXSW has suggested building a wall around the city of Austin and making you pay to enter. NOTE: This is not a suggestion for SXSW.
Instead, the festival serves as a musical Choose Your Own Adventure story, with attendees seeing whatever shows they want and skipping the rest. In the past three years, while other folks were watching Lady Gaga, Kanye West, and Miley Cyrus, I was taking in Tinariwen, Ibeyi, The Residents, Hiatus Kaiyote, Nik Turner's Space Ritual, Kinski, Yamantaka//Sonic Titan, Charles Bradley, Tony Joe White and about 50 other not-ready-for-the-main-stage players.
While there are walls, or at least metal barriers, around individual venues, there also are hundreds of free shows. For those who've paid the pound of flesh for a badge or a wristband, the only limit to what they can see is their imagination, stamina, and the tyranny of time. The night comes alive with options, and as you stroll the shrieking, star-dappled streets of downtown Austin, the smells of fresh-cooked brats and pizza mingle with the acrid remnants of the day's liquor-sickened berserkers to create that delicious and disgusting aroma known as humanity. It's not for everybody, but some of us find it liberating.
It was only a few short years ago that Portland had its own version of this black juju known as MusicfestNW. What's that? MFNW still exists? Sorry, but you've been misinformed. A mediocre pod festival has sucked the marrow from the bones of what used to be MFNW. Sure, it bears a familiar title, but if the new MFNW sees you on the street, it's going to twist up its freaky maw and howl like Donald Sutherland at the end of "Invasion of the Body Snatchers."
MFNW has become the very worst kind of festival – one with a wall around it. You pay your $45 to $60, pass through the fence and are stuck there all day, paying exorbitant prices for beer, measured doses of Jack Daniels, and a pre-selected array of food. Hopefully you can find water, and forget about shade. The lineup is the laughing stock of other summer music fests, and if you don't believe me, just check out the schedule for Sasquatch. Instead of the gorgeous backdrop of the gorge, at MFNW you get the still-Blues-Fest-soiled, generic field of Tom McCall Waterfront Park. Oh, and Modest Mouse is a headliner, as if it was still the year 2000. Yes, they played Sasquatch, too, but so did enough other bands that you easily could have avoided them. Modest Mouse is the shingles of the music world, and Isaac Brock's voice is the stabbing nerve pain – like Freddy Krueger claws on a chalkboard made out of bagpipes – outlined in every commercial for shingles medications. Ask your doctor if MFNW is wrong for you. And while you're at it, ask yourself why nobody's yet invented a Modest Mouse Trap. It need not be humane.
It wasn't always this way. In years past, I've seen Yob, Grails, and Neurosis at MFNW, and that was only one venue. There were many venues around Portland featuring a diverse and lovely selection of genres, and you could hop, skip and stumble from one to the other, choosing the medication that was right for you. Sadly, it was decided that rather than figure out the revenue model as SXSW has done, they would simply go the most unimaginative route possible and turn it into a generic three-day music fest featuring a lineup of bands designed not to offend anybody. To put it another way, it's an aural suppository designed not to excite anybody except the most unimaginative among us.
One small consolation has been Project Pabst's Night Shows. While the main part of the festival doesn't hold much interest for me – aside from a few bands such as Run The Jewels, which I've seen in much better settings – the organizers decided to think outside the wall. If being packed like drunken yuppies into a 12-hour hot yoga class isn't your cup of yerba mate, the good folks behind Project Pabst have come up with a brilliant and seemingly simple solution – other options.
This Saturday night, I'll experience Earth, Federale and 1939 Ensemble at one of Portland's newest music venues, Revolution Hall. There are many great parts of that previous sentence:
First off, notice the scope of time: Saturday night. Not all day Saturday, or all weekend. Nobody at MFNW is going to hold you at gunpoint for that duration, but if you wanted to see the best three bands playing this abomination – Battles, Belle and Sebastian, and Danny Brown – you'd have to be there both Saturday and Sunday, and sit through a dozen lesser bands in order to do so.
Second, those are three very different and awe-inspiring bands. The headliner, Earth, has been defining new musical genres for more than 25 years. From its early droning doom, through the gorgeously clean and spiritual albums the band made from 2008 to 2012, to its apocalyptic new offering featuring Mark Lanegan, Earth has cut its own swath. Local bands Federale and 1939 Ensemble might not have that history, but they're equally exciting in their ambitions. Federale creates soundtracks for imaginary Spaghetti Westerns, and 1939 Ensemble's drums/vibes/trumpet/moog mixture picks up where early Tortoise left off, infusing instrumental post-rock with the kind of raw vitality it had before Explosions in the Sky came along and turned the whole genre into a paint-by-numbers kit. In a three-hour show, I'll be treated to three riveting performances falling all over the musical spectrum.
Lastly, there's the venue. I have yet to experience Revolution Hall, the newest sonic temple from the folks behind Mississippi Studios, and that's part of the fun. Even if it fails to live up to Mississippi – one of the best concert venues in Portland – there's no chance in Hell it won't still be about a thousand times better than Tom McCall Waterfront Park.
Here's the kicker: This is only one of many great night shows being offered to us by Project Pabst. The same night, you could justifiably choose to see Ghostface Killah, who's been on the roll of a lifetime the past two years, backed by instrumental jazz/hip-hop trio BADBADNOTGOOD. Oh, and some guy named Del the Funky Homosapien is opening, just in case you're not allergic to seeing more than one rap god rock the mic in a night. Meanwhile, at the Star Theater you could have your pick of garage-rock greatness, as The Sonics, Roky Erickson, Pierced Arrows and more take the stage over two nights. You could see Chrome on Friday at Bunk Bar, Preservation Hall Jazz Band at Revolution Hall, or the fantastically named Tacocat at Mississippi. Shit, even if you don't like music, you can see Brian Posehn at the Doug Fir on Thursday and call it a weekend.
Whatever you do, don't get suckered into supporting a festival that's a shadow of its former self. Or do. If you really love the sound of bisenjis, beagles and bobcats lashed into a burlap sack and thrown into a burbling brook, Modest Mouse will not disappoint. But if you love freedom, beauty, and new experiences, join me in supporting the festival that offers you those options. Use your dollars to vote on the future of music festivals in Portland. Tear down the musicfesting wall!