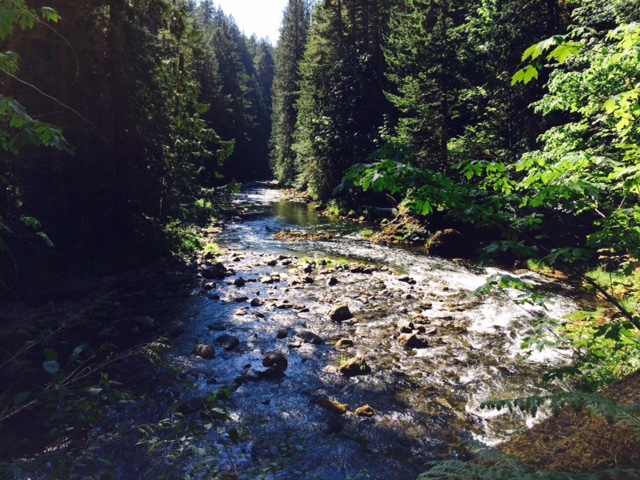 As I busted left off The 5, making for the wilderness of now-dried-up Detroit Lake, Compton's Most Wanted's "Straight Checkn 'Em" came rolling out of my speakers. The "Scarface" samples, low-end thud, and nasal tales of drivebys and ducksicks that are MC Eiht's forte propelled me forward through Mill City, onward toward the annual camping trip that has come to signify summer for a group of friends I've been lucky enough to know since the hey day of my gangster rap obsession.
While Compton's Most Wanted might be the perfect soundtrack for a long drive, it's hardly the proper prescription for an idyllic weekend of camping, card-playing, day-drinking and swims in mountain run-off so cold and refreshing it revives your heat-baked brain as it threatens to stop your heart.
Since first I fell in love with music, I sensed there was a time and place for every tune. I sometimes fear this has become an obscure notion, with a sizable chunk of the public seemingly contented to listen to the same sounds regardless of mood, backdrop or time of day. If a person likes Taylor Swift, then by Satan, they will listen to Taylor Swift when they're happy, sad, bored, excited, sick, angry, or sleeping. A Dubstep devotee fiends for that bass drop in the shower, at work, while making awkward love to their white, dreadlocked partner, or meditating on the hidden meaning of the "Saw" movies.
To me, this is as baffling as the nuances of the Wu-Tang Clan to a desperate Republican presidential hopeful attempting ineptly to pander to his perception of the youth demographic. Music is a many splendored thing, y'all. Every song, every artist, every album represents a very specific point on the emotional color wheel. Not blue, but cadet blue, royal blue, cornflower, midnight, cerulean. Like the icy water at our top-secret forest hideaway, known to the faithful as Lil' Cleatus.
Public Enemy's "It Takes a Nation of Millions to Hold Us Back" might once have been the ultimate soundtrack to a weekend spent recovering from my first break-up in middle school, but at this point, I'd probably opt for Peter Hammill's "Over." As we age, if we're doing it right, we discover new music every day, week, month and year. Just as we once yearned for nothing but Kraft Mac & Cheese, but now can appreciate the subtle flavor of asparagus, so too should our tastes in music evolve. Which isn't to say you can't still like yellow noodles, but if you still ONLY like yellow noodles (or generic pop music), that should signify to you a lack of development in your appreciation of the vast beauty the world has to offer.
With that in mind, I offer a series of snapshots from Lil' Cleatus. These are tunes to camp to:
1) A wooden table sits sizzling in the sun. Atop, an array of board games, cards, beer cans and bourbon bottles compete for our attention. The card game Wizard is the distraction of the moment, and five friends sit talking, wagering, and cursing fate in explosive outbursts of profanity. Believe it or not, this is a happy time. On audio tap is the sound of Yma Sumac, sometimes known as the Peruvian songbird, scatting her way across a funky, psychedelic soundscape. Her brassy growls, sparkling coos, and sometimes just surreal yodeling provide a humorous, rhythmic soundtrack to friends needling each other about their choices of cards, passing around a bottle, and focusing with laser-like precision on decimating the competition. The Esso Trinidad Steel Band's calypso sounds remind us of summer days past spent frolicking to the percolating rhythms of a range of tuned-percussion ensembles including Corvallis' Balafon Marimba Ensemble. When the sublimely hydraulic disco of George McCrae's "Rock Your Baby" comes on, heads start nodding, and the party is afoot. Not even the soul-searing loss to our buddy Scorpio can dampen the elevated feeling that is mandatory when "I Get Lifted" comes bumping out of the portable speakers.
2) In a shady nook just off "Sketchy Beach," the water babbles softly past. Light filters beguilingly through the trees in beams not entirely unpleasant. Another group of friends has gathered to game, but this time something much subtler is called for. Under the advice of the group's legal counsel, Nick Drake's "Bryter Later" is selected to conjure waking dreams of pastoral scenes. I'm reminded of the river in John Boorman's "Hope and Glory" and suddenly have a strong urge to play Cricket. Later, in this same setting, Future Sound of London's "Environments" will strike a suitably atmospheric mood, with ambient synth tones, down-tempo beats, and alien dialogue clips and sound effects drifting in and out of the naturally occurring sounds of our green glen.
3) The group gathers around the campfire, sadly not singing "Jane" by Jefferson Starship as this sucker for "Wet Hot American Summer" would wish. But they are joyously belting out tunes by Paul Simon, Waylon Jennings, Ween, and Tenacious D. And when, after some have wandered off to bed and my boy Bronze tells me it's time, I get to my feet ready to belt out one of the few songs I came on this trip prepared to sing. What follows is a rowdy, bellowing rendition of Tony Joe White's "Willie and Laura Mae Jones" that suddenly seems like a timely choice in the wake of the Confederate Flag coming down across the country. Campfires are for anthems, after all, or at the very least the songs that made up the fabric of our youth. Despite my best efforts, I'm unable to get any of the guitar accompanists to play PE's "Black Steel in the Hour of Chaos" for me to rap to. This doesn't stop me. Sorry Chuck D.
4) The sun's rays stab mercilessly like Joe Pesci in the opening scene of "Goodfellas," and we seek refuge in the river. No music plays. This moment is perfect, and sometimes the perfect soundtrack is no soundtrack at all.
5) It's that forlorn hour when departure can no longer be delayed. The tent has been packed, the last bagel eaten, a farewell game of Wizard survived. Barely. As I load the last of my crap into the Pilot (product placement!), Budos Band's blistering, metallic, spooky dirge blares from my speakers. It feels better than I do having to say goodbye to my own personal Brigadoon. There's something in the minor-key Ethiopian-inflected horns-and-organ combo that both reflects this sadness while sweeping it away like Sandman Sims. Perhaps "Budos III" would have been an even more precise reflection of this moment than the now-playing "Burnt Offering," I think, but there's always next year. Who knows who I'll be by then, or what strange new sounds I will have pinpointed on the color wheel.